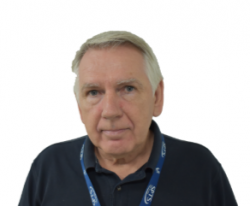 We couldn't be prouder this month than to celebrate Tony Manning who has just achieved 45 years of working with the company. Tony joined us in 1976 as a Prototype Wireman, when the company was Electrotech, and based in Abercarn. Tony joined when there were no computers, no mobile phones, and no computer-aided design, in an era where draftsmen and bookkeepers did everything by hand and on paper. Tony was charged with doing all the prototype work for any new builds back when prototype circuit boards and power supplies were the standards as a pre-requisite before production.
Tony has seen and been part of Semiconductor history throughout the decades, and we're honored he's been a part of our company to see it through with us. He is, however, the first to explain that the industry has seen its fair share of ups and downs.
"[In the early days] our career paths were like a rollercoaster. Really -, it was up and down, up and down, and unfortunately over quite a number of years there were several rounds of redundancies …it was a difficult time for a lot of people because the industry in the early years was really unstable. We had massive peaks and massive troughs."
Tony remembers working through the 1980s when the coal miners were striking. Many companies suffered from loss of electricity, due to the shortage of coal, and took their staff and production down to 3 days a week. SPTS at the time, however, (then called Electrotech) sought and purchased a generator large enough to keep their production going, and their staff working for the full five-day week.
"I feel very lucky really to survive 45 years in this industry."
After only a couple of years Tony was promoted to supervisor and continued to do so for over 25 years of his career, always ensuring that he kept "hands-on" as much as possible with his technical teams however and enjoyed it. "When you think back to 1976, we were market leaders even back then." Tony has kept his love of being hands-on to this day working as a Senior Assembly Technician.
To stay with the company for so long, we wanted to know if Tony felt SPTS was supportive of its people:
"When I started with the company, I was enrolled in a pension scheme (in 1976!) within the first six weeks My opinion is if a company is prepared to have a pension scheme for its workers, it shows the company is looking after its workforce."
To watch one company and industry change so much, Tony has had a rare opportunity that not many will ever get, to witness how amazing the changes have been.
"Yes, yes it has [been amazing], we've gone from a cottage industry to high-volume, high-tech industry. It is quite amazing really, because you can't help sometimes thinking back to the old days of how we used to do things compared to where we are now, and I certainly think that with KLA it's definitely the best company by far."
Quizzing him on what has been the biggest change(s). "I think it's the way our manufacturing has grown to high volume production. It's just the volume of machines we can push through on a weekly basis. It's amazing really to see how efficiently all these machines are being built to such high quality in such a short period of time."
So, what about the future, and the next generation to come? Tony talked about how the company is still up and coming even now; "I just think for young people that come in today, it's just a very exciting time. For anyone young to come into the factory, from outside of the industry, and see the cleanroom - I think a lot of them would be blown away…I think they would be very, very impressed."
We would like to congratulate Tony on his amazing career, and he has literally helped build the technologies that are shaping our lives.
"One thing I would say more than anything. I'm really proud of my work. If I build something or wire it, I'm really proud… that makes a big difference I think."<
Tony specifically asked me to add a big "thank you" to KLA. He's been gifted Reward Celebrate points as congratulations for reaching his 45 years milestone and wanted to pass on his gratitude and thanks.
"A big thank you from me … I really appreciate what they've done"
Tony talked about feeling proud, and lucky to have survived 45 years, but it's really the other way around. SPTS is so proud to have had someone as hard-working, kind, and as dedicated as Tony working with the company through his entire career, through all the ups and downs, and his amazing journey in the development of semiconductor technologies.
Tony will be looking forward to hopefully retiring by 2022, and we want him to do so knowing that he has been a long-standing, valued and respected, and amazing part of our company's history and growth.
Join Us to Discover How You Can Advance Humanity
Take a look at SPTS's career openings for the Opportunities Ahead for you.