Newport, United Kingdom – SPTS Technologies, a supplier of advanced wafer processing solutions for the global semiconductor industry and related markets, today announced that it has won a Gold Award in the Royal Society for the Prevention of Accidents (RoSPA) Occupational Health and Safety Awards 2014.
Jon Peploe, Sue Fox, and Tony Knowles of SPTS accepting RoSPA Gold Award
RoSPA is a safety charity that recognizes companies who have demonstrated a commitment to occupational safety and health for their employees.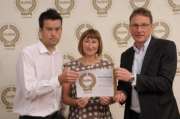 David Rawlins, RoSPA's awards manager, said: "The RoSPA Awards encourage the raising of occupational health and safety standards across the board. Organisations like SPTS Technologies that gain recognition for their health and safety management systems contribute to a collective raising of the bar for other organisations to aspire to, and we offer them our congratulations."
Dating back 58 years, the RoSPA Awards scheme is the largest and longest-running programme of its kind in the UK. It is open to businesses and organisations of all types and sizes from across the UK and overseas. The scheme not only looks at accident records, but also entrants' overarching health and safety management systems, including practices such as leadership and workforce involvement.
Tony Knowles, vice president of human resources at SPTS Technologies said, "We are honoured that RoSPA has recognized our safety commitment with our second Gold Award. We place great importance on Health and Safety (H&S) at all levels of the business, and we are very proud of the fact that we have not had a reportable incident* since 2009. This award is a testament to all our employees' commitment to H&S best practices at work."
The majority of awards that RoSPA presents are non-competitive, marking achievement at merit, bronze, silver and gold levels. See www.rospa.com/awards/ for more information about the RoSPA Occupational Health and Safety Awards.
*Under the RIDDOR (reporting of injuries, diseases and dangerous occurrences regulations) system, a "reportable incident" is classed as an incident that causes significant injuries resulting in more than 7 days' absence from work.
Company Contact:
Destanie Clarke
Tel: +44 7951 203278
Destanie.Clarke@spts.com